Crystal Cruises' 2025 World Cruise is here! Get the best suites first plus exclusive World Cruise benefits!
123 NIGHTS—62 DESTINATIONS—31 COUNTRIES
Beginning on January 7, 2025 in Fort Lauderdale, the beautiful Crystal Serenity will sail to Mexico, Honduras, and Colombia before sailing along the coast of South America exploring Guayaquil, Lima, the Chilean fjords, Ushuaia, Rio de Janeiro and more. Venture onto beautiful Africa discovering Namibia, South Africa, Tanzania, and Kenya. Then, experience the beaches of the Seychelles and Maldives before traveling to Sri Lanka and Mumbai. The voyage continues on to the iconic Valley of Kings in Egypt and the remarkable Petra in Jordan before exploring the Italian coast and sailing to Barcelona.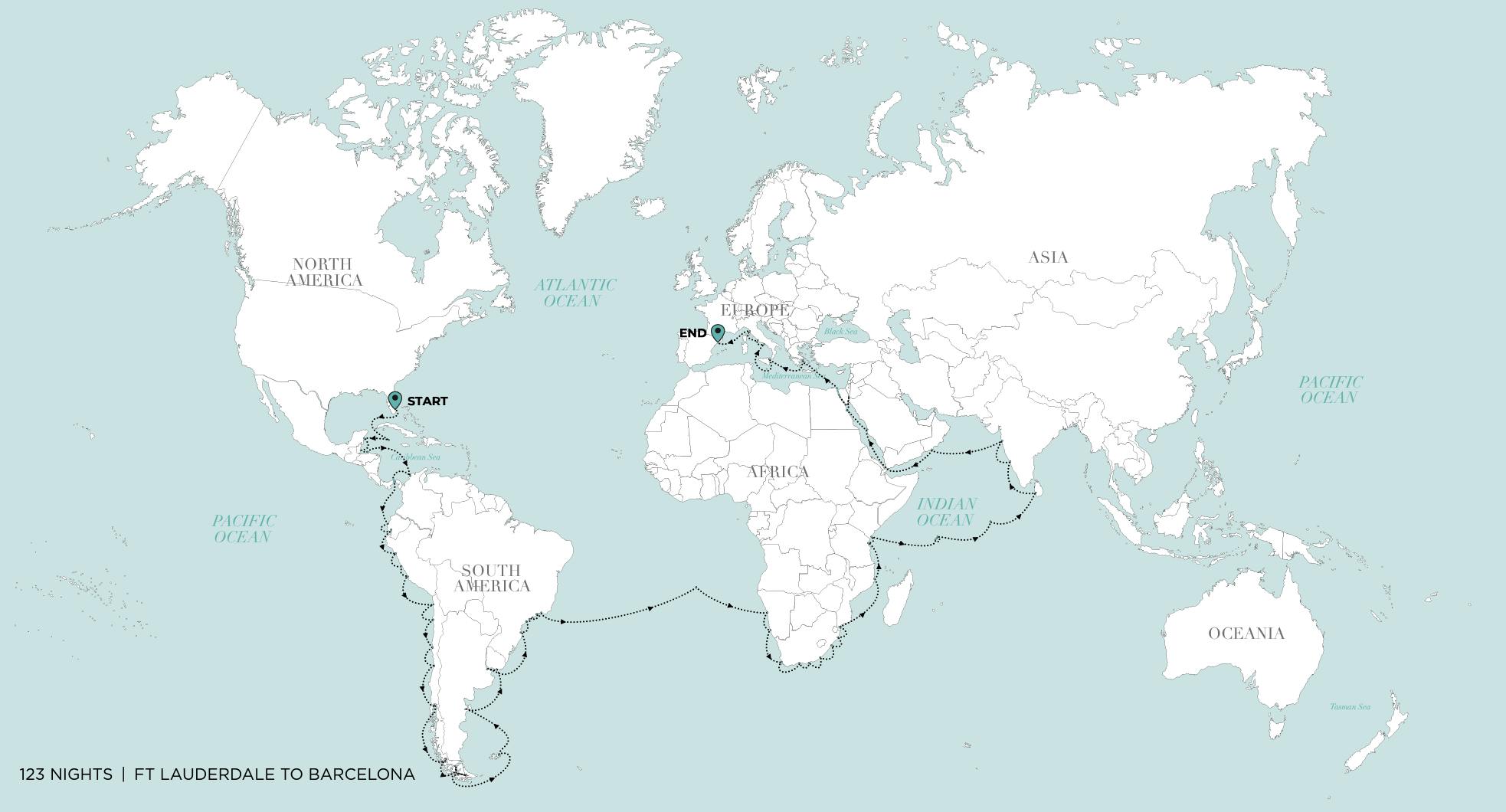 EXCLUSIVE WORLD CRUISE BENEFITS:
Business Class air savings
$1,500 'As You Wish' credit
Luggage valet
Themed onboard events
Unlimited dining at Osteria D'Ovidio and Umi Uma
Exclusive onshore events
Exclusive Gala dinner
Complimentary laundry service
Send-off celebration
With Crystal Cruises and their exclusive partnership with Abercrombie and Kent, you get to explore the hidden facets of each destination like never before. Enjoy exclusive events and optional overland experiences that have been thoughtfully designed so you can experience the heart of every destination.
Enjoy overnight stays in beautiful places like Guayaquil, Ecuador; Ushuaia, Argentina; Santos, Brazil; Walvis Bay, Namibia; Mombasa, Kenya; Colombo, Sri Lanka; Luxor, Egypt and more! Take advantage of the 2025 World Cruise Ambassador, Fernando Barroso de Oliveira, who has spent the last six decades traveling the world. He will be on board to share his incredible knowledge and expertise and make sure all of your experiences are exceptional.
View the itinerary below or call our experts at 1 (877) 734-6858 to reserve your suite on this once-in-a-lifetime adventure!
Fares/rates are per person, based on double occupancy for select sail and travel dates; are capacity controlled and subject to availability at time booking and may be pulled without notice. We reserve the right to correct errors. Information and pricing is subject to change without notice. While we do our very best to ensure that information and pricing appearing in this website is complete and accurate, we cannot be responsible for incomplete and inaccurate representations, which may or may not be under our control. In the event of a pricing error, misrepresentation or omission, we reserve the right to adjust the pricing or make any other corrections.