Oceania's 2024 World Cruise is here! Call our experts now to get extra amenities worth up to $17,000!
5 CONTINENTS | 34 COUNTRIES | 96 PORTS VISITED | 24 OVERNIGHTS
Departing on January 14, 2024, Insignia will visit 96 exciting destinations across 34 countries. Explore each destination even further with 24 overnight stays all in one 180-day journey. For 2024, Oceania Cruises is also offering an additional option of sailing from Miami on a 196-day itinerary. Insignia will begin the westward route exploring the Hawaiian Islands, French Polynesia and the Samoan Islands before continuing south to Australia and New Zealand. Then, immerse yourself in all that Asia has to offer exploring Bali, Japan, Vietnam and so much more. Finally, Insignia will move to the exotic shores of India and the Arabian Peninsula followed by an in-depth exploration of the Mediterranean and Northern Europe. The 2024 World Cruise is a once-in-a-lifetime experience that will feature countless complimentary amenities and exclusive savings and extras you can only get from us!
Call our experts now—Oceania's 2023 World Cruise sold out in one day!
Exclusive Full World Cruise amenities from us worth up to $17,000:
Shipboard Credit
Exclusive Cocktail Parties
FREE Private Tour in up to Three Ports of Call
Bonus Savings
Included Full World Cruise amenities:
FREE Pre-Paid Gratuities– a value of up to $8,200
FREE Onboard Medical Care
FREE Internet
FREE Laundry Services
FREE Exclusive Shoreside Events
FREE Visa Package
FREE Luggage Delivery
FREE 1-Night Pre-Cruise Luxury Hotel Stay
FREE Roundtrip Transfers
In addition to the World Cruise, you'll also get early access to Oceania's 2023-2024 Grand Voyages ranging from 72 to 82 days, exploring fascinating destinations like Asia, Australia, India and more! This specially curated set of four Grand Voyages will include exclusive amenities like FREE prepaid gratuities and FREE luggage delivery.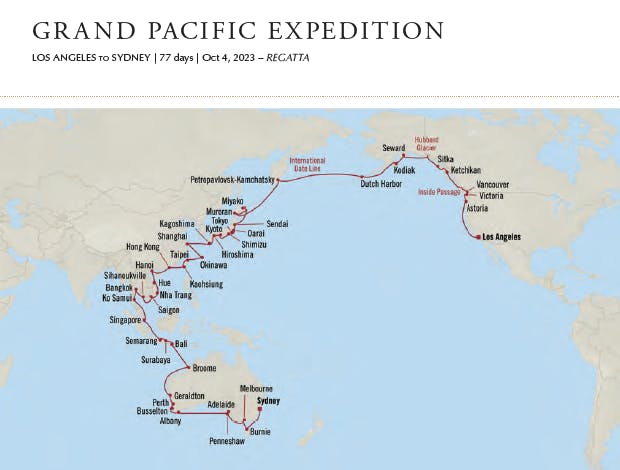 Plus, get more value on the World Cruise or the Grand Voyages when you add OLife Choice and get FREE Business-Class Airfare and your choice of an extra perk like FREE shore excursions, FREE beverage package, or additional shipboard credit! View the brochures for each of these exciting voyages and ask our experts how to get exclusive extras on the Full World Cruise or the Grand Voyages.
Choose your sailing below or call our Oceania experts at 1 (877) 734-6858 to get all the details and exclusive extra amenities you can't get anywhere else!
Connect With A CruiseInsider Expert About This Special Offer!
Submit the form below or call us at 1 (877) 734-6858
Includes free extras and bonus savings available only from CruiseInsider.
Terms and Conditions
Exclusive CruiseInsider amenities only available on Full World Cruise and vary based on stateroom category reserved. Other restrictions may apply. Fares/rates are per person, based on double occupancy for select sail and travel dates; are capacity controlled and subject to availability at time booking and may be pulled without notice. We reserve the right to correct errors. Information and pricing is subject to change without notice. While we do our very best to ensure that information and pricing appearing in this website is complete and accurate, we cannot be responsible for incomplete and inaccurate representations, which may or may not be under our control. In the event of a pricing error, misrepresentation or omission, we reserve the right to adjust the pricing or make any other corrections.